Why would you want to stay
at our old-fashioned inn, with its old-fashioned bakery?

Maybe it's because: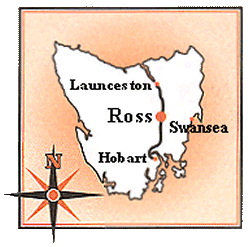 We're in the heart of Tasmania's finest Heritage Village
We're the Original Bakery of Ross (circa 1860). We still use the traditional Wood-Fired Oven
Ross Village is the best ½ way stopping point between Hobart and Launceston, and only one hour's easy drive to the East Coast.
Kirsty Lloyd-Bostock and Carl Crosby
Ross Bakery Inn & Ross Village Bakery
15 Church Street, Ross, Tasmania, 7209

Phone: (03) 6381 5246
International Phone +61(3)6381 5246

Fax: (03) 6381 5360
International Fax +61(3)6381 5360

E-Mail: enquiries@rossbakery.com.au




Bakery Hours
Open 6 days a week. 9am until 4pm
Closed on Tuesdays